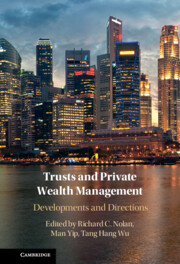 Trusts and Private Wealth Management: Developments and Directions
Edited by Richard C. Nolan (University of York), Yip Man (Singapore Management University) and Tang Hang Wu (Singapore Management University)
Publisher: Cambridge University Press
Year of publication: 2022
There has been insufficient literature focusing on the world-changing rise of Asian wealth. Private wealth in Asia is very substantial, with 33 per cent of the global population of high-net-worth individuals based in Asia. Yet, there is a dearth of legal analysis of Asian wealth, particularly by texts written in English. This collection aims to fill that gap, with chapters on legal issues in relation to Asian wealth transmission, investments in international real estate, familial disputes, family offices and private trust companies. A substantive section of this book also focuses on the changing legal context with chapters exploring trusts and cryptoassets, constructive trust, trustee's discretion and decision-making, changing regulatory environment and abuse of trust structures. This collection of essays on trusts and wealth management presents a focus on Asian wealth and the changing legal context, and follows the related publication, Trusts and Modern Wealth Management (Cambridge University Press, 2018).
---
Special Issue of Legal Issues of Economic Integration (March 2022)
Guest editor: Pasha L. Hsieh (Singapore Management University)
Publisher: Wolters Kluwer
The agreements and relations between the EU and ASEAN countries enrich the theoretical concept of interregionalism and advance exogenous influences on new Asian regionalism. Questions have arisen as to the legal designs and business implications of new EU trade and investment agreements with Singapore and Vietnam, as well as the prospective ASEAN-EU FTA. Against this backdrop, Pasha L. Hsieh and Dorcas Quek Anderson of the Singapore Management University (SMU) Yong Pung How School of Law convened a conference on the roadmap to the ASEAN-EU FTA in December 2020. With the sponsorship of the SMU Centre for Commercial Law in Asia, the conference brought together leading academics and government officials from Asia-Pacific countries and the European Commission. Participants' contributions to the conference led to this special issue on "Shaping Interregionalism: The Roadmap to the ASEAN-EU FTA in the Post-Pandemic Era". It provides the most timely and analytical account of EU FTAs with Singapore and Vietnam in light of contemporary trade strategies and domestic legal reforms.
---

Special Issue of Asian Journal of WTO & International Health Law and Policy (March 2022)
Guest editor: Pasha L. Hsieh (Singapore Management University)
Publishers: Asian Center for WTO & International Health Law and Policy (College of Law, National Taiwan University) and National Taiwan University Press
This special issue of the Asian Journal of WTO & International Health Law and Policy contains selected papers from the 7th Asian International Economic Law Network Conference, organised by the Centre for Commercial Law in Asia (Singapore Management University) and the Asian Center for WTO & International Health Law and Policy (National Taiwan University College of Law). The theme of the special issue is "Building a Sustainable Future: New Asian Regionalism in International Economic Law". The papers cover wide-ranging topics and highlight legal challenges to conflicts between Great Powers, fishing subsidies, sustainable development provisions of investment pacts, the trade-health nexus in the context of the COVID-19 pandemic, and renewable energy disputes under the World Trade Organization.
---
Convergence and Divergence of Private Law in Asia
Edited by Gary Low
Publisher: Cambridge University Press
Year of publication: 2022
There has been an increasing need for greater integration of many Asian economies, either within the confines of ASEAN or on a more geo-economically strategic scale including major Asian jurisdictions like China, Japan, and Korea. A number of key personalities within the regional legal fraternity have advanced views that such integration ought to occur through the harmonization of legal rules, arguing that in doing so, uncertainty and other transaction costs would be reduced and commercial confidence within the region concomitantly increased. This edited volume brings together eminent and promising scholars and practitioners to investigate what convergence and divergence means in their respective fields and for Asia. Interwoven in the details of each tale of convergence is whether and how convergence ought to take place, and in so choosing, what are the attendant consequences for that choice.
---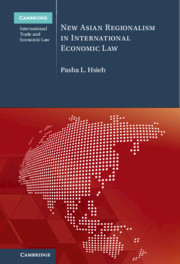 New Asian Regionalism in International Economic Law
By Pasha L. Hsieh (Singapore Management University)
Publisher: Cambridge University Press
Year of publication: 2021
This book provides the first systematic analysis of new Asian regionalism as a paradigm shift in international economic law. It argues that new Asian regionalism has emerged amid the Third Regionalism and contributed to the New Regional Economic Order, which reinvigorates the role of developing countries in shaping international trade norms. To substantiate the claims, the book introduces theoretical debates and evaluates major regional economic initiatives and institutions, including the ASEAN+6 framework, APEC, the CPTPP and the RCEP. It also sheds light on legal issues involving the US-China trade war and the COVID-19 pandemic, as well as trade policies of Asian powers, the European Union and the United States. Hence, the legal analysis and case studies offer a fresh perspective of Asian integration and bridge the gap between academia and practice.
---

The Asian Turn in Foreign Investment
Edited by Mahdev Mohan (Singapore Management University) and Chester Brown (University of Sydney)
Publisher: Cambridge University Press
Year of publication: 2021
This book critically discusses the increasing significance of Asian States in the field of international investment law and policy. It contains analyses of both national and multilateral investment law rule-making in Asia, including a critical discussion of certain States' approaches to balancing the different tension between investment protection and the preservation of States' regulatory sovereignty. It also contains thematic chapters on cutting-edge developments which are of relevance to Asia as well as the global community, such as investors' obligations of due diligence, additional transparency in treaty-based investment arbitration responses by ASEAN member States to transboundary haze pollution, and the relevance of human rights obligations in international investment law. It also contemplates future possibilities for investor-State dispute settlement, including the use of investor-State mediation in view of the Singapore Convention on Mediation.
---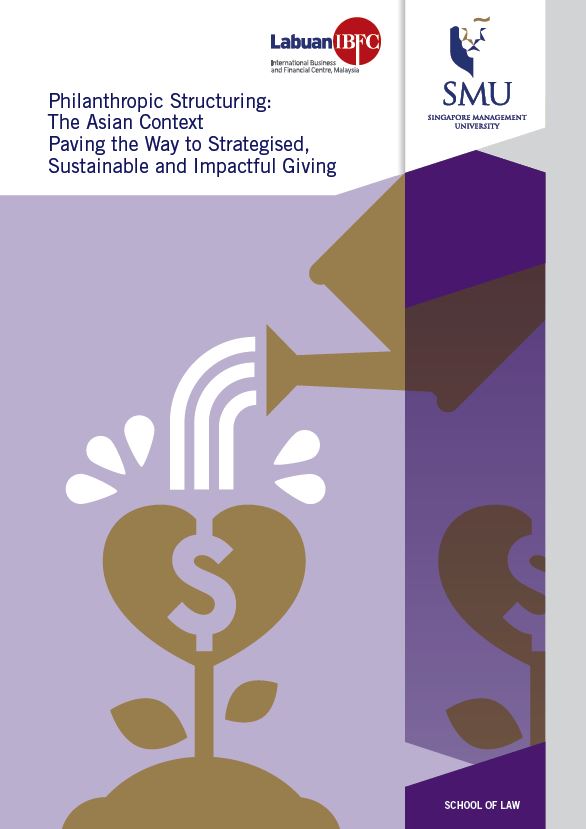 Philanthropic Structuring: The Asian Context - Paving the Way to Strategised, Sustainable and Impactful Giving

Research Collection School of Law
Year of publication: 2020
Asian philanthropy has tremendous potential for growth. Even as the population of ultra-rich individuals in Asia continues to expand, studies indicate that Asian philanthropists have the capacity to give a lot more. The key to tapping into the massive potential for Asian giving and catalysing sustainable and impactful philanthropy in Asia, is to understand the Asian way of giving and embrace strategic institutional and industry innovation.
Our paper proposes three strategic directions to expand access to philanthropy: encouraging giving beyond one's home and religious causes; encouraging everyone to give regardless of the size of the gift; and encouraging formal giving.
Strong support from governments and industry is crucial to helping Asian philanthropy reach its potential. Various technological and legal developments have been proven to successfully catalyse and support giving, while online charity platforms and crowdfunding have greatly improved the range and impact of charitable campaigns, and legal structures such as donor-advised funds facilitate effective giving while minimising administrative costs. Crucially, such measures lower the barriers to giving and make it more accessible to the average person. The dream is to achieve democratised philanthropy, where everyone—and not just the ultra-rich—is motivated and enabled to give.
The question that remains to be answered is that if Asians are more prone to giving and large Asian benefactors have long existed, is there a platform and structure which is able to cater to their needs for cross jurisdictional giving? Further, where can these structures reside and can the digital revolution assist in facilitating this noble intention?
Click here to download.
---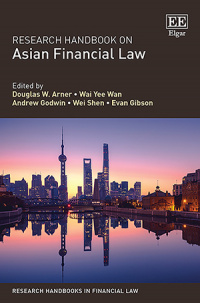 Research Handbook on Asian Financial Law
Edited by Douglas W. Arner (University of Hong Kong), Wai Yee Wan (Singapore Management University), Andrew Godwin (University of Melbourne), Wei Shen (Shanghai Jiao Tong University) and Evan Gibson (University of Hong Kong)
Publisher: Edward Elgar Publishing
Year of publication: 2020
This comprehensive Research Handbook provides an in-depth analysis of the different financial law approaches, legal systems and trends throughout Asia. It considers how reforms following the crises have been critical for the development and growth of the region and explores a broad range of post-crisis financial regulatory issues. This timely book also examines how inconsistent and divergent approaches to financial market regulation are curtailing the region's potential.
---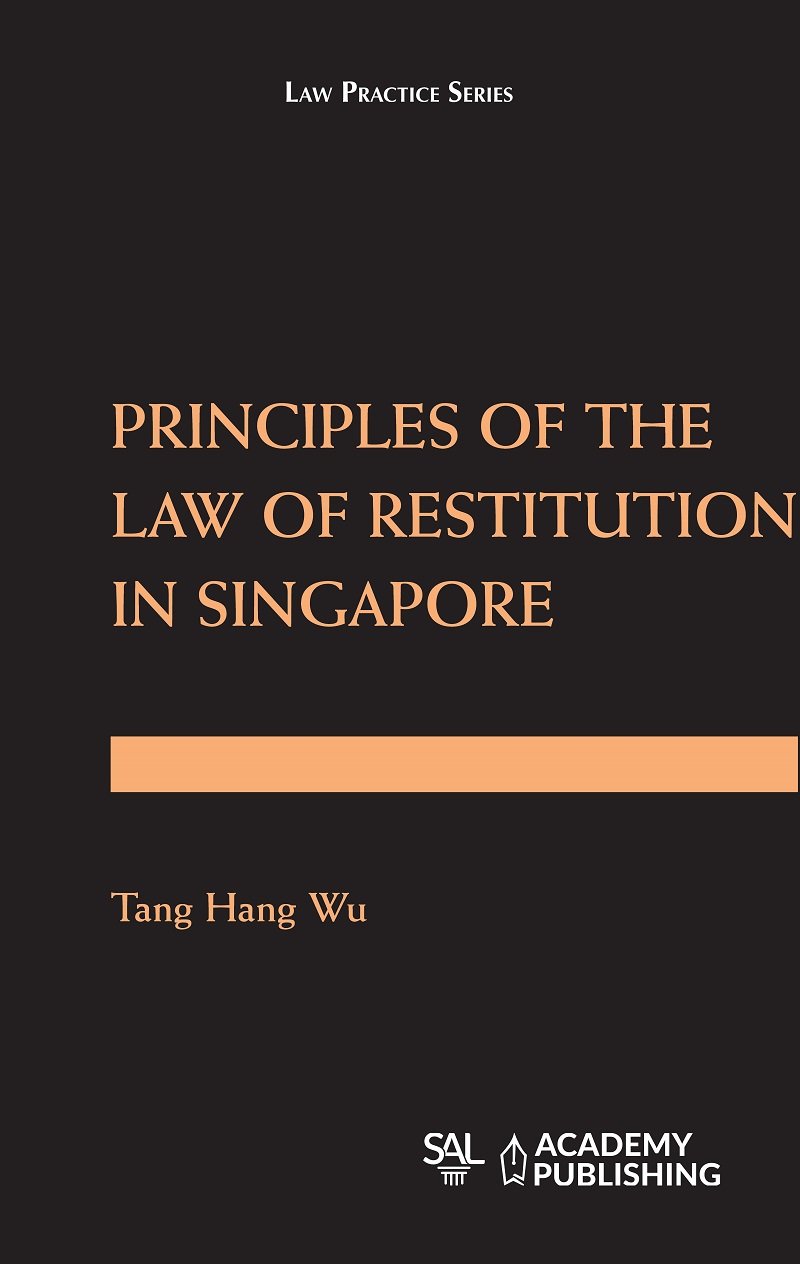 Principles of the Law of Restitution in Singapore
By Tang Hang Wu (Singapore Management University)
Publisher: Academy Publishing
Year of publication: 2019
The law of restitution is a major branch of private law which is not well understood. This is the first book dedicated to the law of restitution in Singapore providing an analysis of the principles of the law of restitution with reference to two distinct parts, namely, unjust enrichment and restitution for wrongs. The prevention of unjust enrichment as an independent legal principle, capable of founding causes of action, gained currency as an independent branch of the common law in Singapore only in the 1990s. This book introduces readers to the central concepts and controversies in the law of restitution, focusing on unjust enrichment and restitution for wrongs as organising themes. Leading decisions in Singapore and other Commonwealth jurisdictions are used to explain the fundamental concepts in the law of restitution.
---
ASEAN Law in the New Regional Economic Order: Global Trends and Shifting Paradigms
Edited by Pasha L. Hsieh (Singapore Management University) and Bryan Mercurio (Chinese University of Hong Kong)
Publisher: Cambridge University Press
Year of publication: 2019
The fast-growing last decade of strong economic growth of the Association of Southeast Asian Nations (ASEAN) has played a critical role in Asia-Pacific regionalism and global trade. This book explores the concept of ASEAN law under the normative framework of the new regional economic order. It examines the roadmap of the new ASEAN Economic Community Blueprint 2025 by evaluating the impact of ASEAN trade agreements on domestic legislation on professional services, financial integration, investment disputes and digital trade. More importantly, it sheds light on the legal implications of ASEAN's agreements with China and India and the potential developments of mega-regional trade agreements such as the CPTPP and the RCEP. Hence, the legal analysis and case studies in the book offer a fresh view of Asia-Pacific integration and bridge the gap between academia and practice.
---
Property and Trust Law in Singapore
By Alvin See, Yip Man and Goh Yihan (Singapore Management University)
Publisher: Wolters Kluwer
Year of publication: 2018
Derived from the renowned multi-volume International Encyclopaedia of Laws, this practical analysis of the law of property in Singapore deals with the issues related to rights and interests in all kinds of property and assets – immovable, movable, and personal property; how property rights are acquired; fiduciary mechanisms; and security considerations. Lawyers who handle transnational disputes and other matters concerning property will appreciate the explanation of specific terminology, application and procedure.
An introduction outlining the essential legal, cultural, and historical considerations affecting property is followed by a discussion of the various types of property. Further analysis describes how and to what extent legal subjects can have or obtain rights and interests in each type. The coverage includes tangible and intangible property, varying degrees of interest, and the various ways in which property is transferred, including the ramifications of appropriation, expropriation, and insolvency. Facts are presented in such a way that readers who are unfamiliar with specific terms and concepts in varying contexts will fully grasp their meaning and significance. The book includes ample references to doctrine and cases, as well as to relevant international treaties and conventions.
Its succinct yet scholarly nature, as well as the practical quality of the information it provides, make this book a valuable time-saving tool for any practitioner faced with a property-related matter. Lawyers representing parties with interests in Singapore will welcome this very useful guide, and academics and researchers will appreciate its value in the study of comparative property law.
---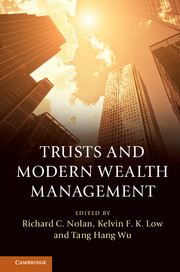 Trusts and Modern Wealth Management
Edited by Richard C. Nolan (University of York), Kelvin F.K. Low (City University of Hong Kong) and Tang Hang Wu (Singapore Management University)
Publisher: Cambridge University Press
Year of publication: 2018
Trust law has grown and developed over recent years through the continued ingenuity of practitioners and the provision of innovative new trust laws by offshore jurisdictions. The wealth managed through the medium of trust law has also changed in recent years, as increasingly it has come from the newly rich of Asia. This brings distinctive issues to the fore: the role of settlors, family members and trusted advisors in trust administration; the position of trustees in relation to instructions coming from such persons; and an increased desire for confidentiality in trust administration and the settlement of trust disputes. This collection focuses on trusts which are deliberately created to manage wealth and the concomitant issues such trusts raise in other areas of law. Essays from leading members of the judiciary, practitioners and academics explore these developments and their implications for the users of trust law and for society in general.
---
Comparative Takeover Regulation: Global and Asian Perspectives
Edited by Umakanth Varottil (National University of Singapore) and Wai Yee Wan (Singapore Management University)
Publisher: Cambridge University Press
Year of publication: 2017
While Western economies generally display dispersed shareholding in listed companies, Asian economies commonly have concentrated shareholding also in publicly listed companies. The principal analysis in Comparative Takeover Regulation relates to the role of takeover regulation in different economies. In the Asian context, the nature of takeover regulation may necessitate a different approach, with greater emphasis on the mandatory bids and disclosure of substantial shareholding. The likelihood of hostile takeovers will be minimal. It is these differences among various jurisdictions that strike at the heart of Varottil and Wan's new work. Ideal for educational institutions that teach corporate law, corporate governance, and mergers and acquisitions, as well as for law firms, corporate counsel and other practitioners, Comparative Takeover Regulation provides students and scholars with brand new analysis of this increasingly important field of study.
---
Business and Human Rights in Southeast Asia: Risk and the Regulatory Turn
Edited by Mahdev Mohan and Cynthia Morel (Singapore Management University)
Publisher: Routledge
Year of publication: 2015
Business and human rights has emerged as a distinct field within the corporate governance movement. The endorsement by the UN Human Rights Council of a new set of Guiding Principles for Business and Human Rights in 2011 reinforces the State's duty to protect against human rights abuses by third parties, including business; the corporate responsibility to respect human rights; and greater access by victims to effective remedy, both judicial and non-judicial.
This book draws on the UN Guiding Principles and recent national plans of action, to provide an overview of relevant developments within the ASEAN region. Bridging theory and practice, the book sheds light on how stakeholders currently approach business and human rights, and explores how the role of ASEAN States, and that of the institution itself, may be strengthened. In doing so, it identifies critical challenges and opportunities that lie ahead for the region in relation to business and human rights. This book will be of excellent use and interest to scholars, practitioners and students of human rights, business and company law, international law and corporate governance.