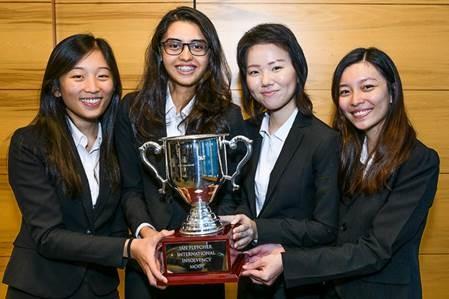 ​
---
In our commitment to prepare students for the legal profession, SMU has always provided students with the opportunity to engage in international moot programmes. For that purpose, our faculty, coaches and external collaborators provide students with the training needed to excel in these competitions.
The SGRI particularly encourages students to be part of the Ian Fletcher International Insolvency Law Moot Competition organised by INSOL International, Queensland University of Technology and the International Insolvency Institute. Participation in this moot provides students with a unique opportunity to interact with academics, judges, students and insolvency practitioners from all over the world.
Since it was launched in 2017, SMU students have twice won the Ian Fletcher International Insolvency Law Moot. In the photo above, SMU students Samantha Lim, Arushee Bhatnagar, Ng Wei Qi and Tan Jia Yi hold the trophy after winning the 4th Fletcher International Insolvency Law Moot held in London in 2020. The championship final was judged by Lord Justice David Richards, Justice Kannan Ramesh and Madam Justice Mincke Melissen.