Books

Edited by Richard C. Nolan (University of York), Yip Man (Singapore Management University) and Tang Hang Wu (Singapore Management University)
Publisher: Cambridge University Press
Year of publication: 2022
There has been insufficient literature focusing on the world-changing rise of Asian wealth. Private wealth in Asia is very substantial, with 33 per cent of the global population of high-net-worth individuals based in Asia. Yet, there is a dearth of legal analysis of Asian wealth, particularly by texts written in English. This collection aims to fill that gap, with chapters on legal issues in relation to Asian wealth transmission, investments in international real estate, familial disputes, family offices and private trust companies. A substantive section of this book also focuses on the changing legal context with chapters exploring trusts and cryptoassets, constructive trust, trustee's discretion and decision-making, changing regulatory environment and abuse of trust structures. This collection of essays on trusts and wealth management presents a focus on Asian wealth and the changing legal context, and follows the related publication, Trusts and Modern Wealth Management (Cambridge University Press, 2018).
---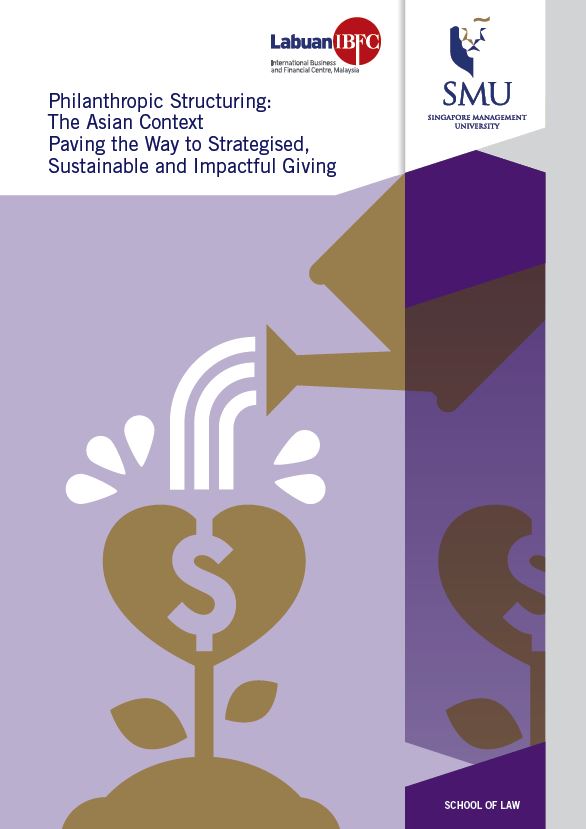 Year of publication: 2020
Asian philanthropy has tremendous potential for growth. Even as the population of ultra-rich individuals in Asia continues to expand, studies indicate that Asian philanthropists have the capacity to give a lot more. The key to tapping into the massive potential for Asian giving and catalysing sustainable and impactful philanthropy in Asia, is to understand the Asian way of giving and embrace strategic institutional and industry innovation.
Our paper proposes three strategic directions to expand access to philanthropy: encouraging giving beyond one's home and religious causes; encouraging everyone to give regardless of the size of the gift; and encouraging formal giving.
Strong support from governments and industry is crucial to helping Asian philanthropy reach its potential. Various technological and legal developments have been proven to successfully catalyse and support giving, while online charity platforms and crowdfunding have greatly improved the range and impact of charitable campaigns, and legal structures such as donor-advised funds facilitate effective giving while minimising administrative costs. Crucially, such measures lower the barriers to giving and make it more accessible to the average person. The dream is to achieve democratised philanthropy, where everyone—and not just the ultra-rich—is motivated and enabled to give.
The question that remains to be answered is that if Asians are more prone to giving and large Asian benefactors have long existed, is there a platform and structure which is able to cater to their needs for cross jurisdictional giving? Further, where can these structures reside and can the digital revolution assist in facilitating this noble intention?
Click here to download.
---
By Alvin See, Yip Man and Goh Yihan (Singapore Management University)
Publisher: Wolters Kluwer
Year of publication: 2018
Derived from the renowned multi-volume International Encyclopaedia of Laws, this practical analysis of the law of property in Singapore deals with the issues related to rights and interests in all kinds of property and assets – immovable, movable and personal property; how property rights are acquired; fiduciary mechanisms; and security considerations. Lawyers who handle transnational disputes and other matters concerning property will appreciate the explanation of specific terminology, application and procedure.
An introduction outlining the essential legal, cultural and historical considerations affecting property is followed by a discussion of the various types of property. Further analysis describes how and to what extent legal subjects can have or obtain rights and interests in each type. The coverage includes tangible and intangible property, varying degrees of interest and the various ways in which property is transferred, including the ramifications of appropriation, expropriation and insolvency. Facts are presented in such a way that readers who are unfamiliar with specific terms and concepts in varying contexts will fully grasp their meaning and significance. The book includes ample references to doctrine and cases, as well as to relevant international treaties and conventions.
Its succinct yet scholarly nature, as well as the practical quality of the information it provides, make this book a valuable time-saving tool for any practitioner faced with a property-related matter. Lawyers representing parties with interests in Singapore will welcome this very useful guide, and academics and researchers will appreciate its value in the study of comparative property law.
---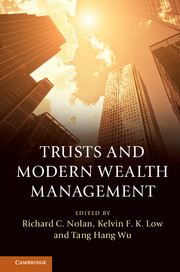 Edited by Richard C. Nolan (University of York), Kelvin F.K. Low (City University of Hong Kong) and Tang Hang Wu (Singapore Management University)
Publisher: Cambridge University Press
Year of publication: 2018
Trust law has grown and developed over recent years through the continued ingenuity of practitioners and the provision of innovative new trust laws by offshore jurisdictions. The wealth managed through the medium of trust law has also changed in recent years, as increasingly it has come from the newly rich of Asia. This brings distinctive issues to the fore: the role of settlors, family members and trusted advisors in trust administration; the position of trustees in relation to instructions coming from such persons; and an increased desire for confidentiality in trust administration and the settlement of trust disputes. This collection focuses on trusts which are deliberately created to manage wealth and the concomitant issues such trusts raise in other areas of law. Essays from leading members of the judiciary, practitioners and academics explore these developments and their implications for the users of trust law and for society in general.
---
Articles, Chapters and Periodicals
Yip Man, "Comparing family property disputes in English and Singapore law: 'context is everything'" (2021) 41 Legal Studies 474
Yip Man, "Rethinking applicability of English legal principles for Asian business family wealth disputes" (Research@SMU, 23 August 2021)
Tang Hang Wu, "Donor-advised funds can make a meaningful impact in Asia" (The Business Times, 15 July 2021)
Tang Hang Wu, "Financial Planning Mechanisms Available to Persons with Special Needs in Singapore" in Lusina Ho and Rebecca Lee (eds), Special Needs Financial Planning: A Comparative Perspective (Cambridge University Press, 2019) 212
Tang Hang Wu, "From Waqf, Ancestor Worship to the Rise of the Global Trust: A History of the Use of the Trust as a Vehicle for Wealth Transfer in Singapore" (2018) 103 Iowa Law Review 2263
Tang Hang Wu, "Hong Kong's elderly and vulnerable need better protection from financial cheats" (South China Morning Post, 16 October 2017)
Tang Hang Wu and Stacy Choong, "Make Giving Better: The Role of the Community Foundation of Singapore" (Singapore Law Gazette, December 2016)
---
Presentations
Tang Hang Wu, "The state of philanthropy in Singapore: From clan based to state facilitated endeavors" (International Symposium on Global Chinese Philanthropy, UCLA Asia Pacific Center; 20 March 2021)
Tang Hang Wu, "From Waqf, Ancestor Worship to the Rise of the Global Trust: A History of the Use of the Trust as a Vehicle for Wealth Transfer in Singapore" (Greater China Legal History Seminar Series, Chinese University of Hong Kong; 19 March 2021)
Yip Man, "Keynote Address - The Narrow Doctrine of Unconscionability Under Singapore Law" (STEP Academic Community Symposium; 7 November 2019)
Yip Man, "Different Types of Family Property Disputes: English and Singapore Developments Compared" (Annual Conference, Society of Legal Scholars; 5 September 2019)
Yip Man, "Resolving Home Ownership Disputes: A Comparative Review of English and Singapore Developments" (Institute of European and Comparative Law and Oxford Property Law Discussion Group; 18 June 2019)
Yip Man, "Transfer of Wealth Between Family Members in Singapore: A Clash Between English Legal Doctrines and Asian Family Dynamics" (Annual Conference, Law & Society Association; 1 June 2019)
Tang Hang Wu, "The Need for a Sustainable Philanthropic Structure" (STEP Malaysia; May 2019)